Exhibiton:
Ramona Czygan – Blue
Extended!
Digital opening: Tuesday, 09.02.2021
Exhibition time: 09.02. - 24.04.
Caspar-David-Friedrich-Zentrum, Lange Straße 57, 17489 Greifswald
As first exhibition of the year 2021 the Caspar-David-Friedrich-Society proudly presents the solo exhibition of Ramona Czygan – Blue within the gallery space of the Caspar-David-Friedrich-Centre in Greifswald.
The exhibition displays a selection of contemporary photographic art works of female artist Ramona Czygan who was born in 1983 in Bernau (near Berlin). The artist lives and works in Greifswald today.
After her studies at the Caspar-David-Friedrich-Institut at the University of Greifswald, Ramona Czygan developed a successful career in the arts while at the same time working in a well known art gallery in Greifswald.
The art works of the photo artist are already known for their specific blue hues and their painterly impressions. To gain this effect, the artist uses pinhole cameras, analogue cameras and self tinted filters among others.1
Even more strikingly the technique of Cyanotype is ever present in the artist's body of works. Cyanotype is a historical precious printing technique within photography, which is responsible for the blue colour shades of the prints.
Other than usual not only papers or canvases are used as bases for the blue prints of Ramona Czygan. Often she uses tissues that already had a life of their own. E. g. old duvet covers or table cloths made of damask or handkerchiefs with lace surroundings get their renaissance as a base for the prints and last but not least as impactful creative effects within the art works of Ramona Czygan.
As early as ten years ago, in 2011, the Caspar-David-Friedrich-Society hosted a solo exhibition of the then emerging artists within the Caspar-David-Friedrich-Centre.
Today as well as back then the landscape photographies of Ramona Czygan captivate the beholder by their calm compositions, which in combination with the blue colour shades of Cyanotype and the mellow, almost melting, blurred lines appear downright melancholic, whereas staged works seem to be reminiscent of scenes out of fairytale films.
Since then the artistic development of Ramona Czygan paced ahead unwaveringly. Hence we want to present you some completely new works within this solo show, Blue. Fresh, sometimes wildly romantic and covered with new motives, found within nature, but also among every day surroundings, the new works tend to surprise the beholder.
By applying objects such as leafs, petals, branches and many more, directly on the chemically prepared bases and put to outdoor-exposure by sunlight, works that appear like photograms are developed. Their sharp contrasts and deep hues of blue speak a more graphic language and captivate the beholder with the energy of a round dance in summer. The artist however, stays true to herself and to the colour blue.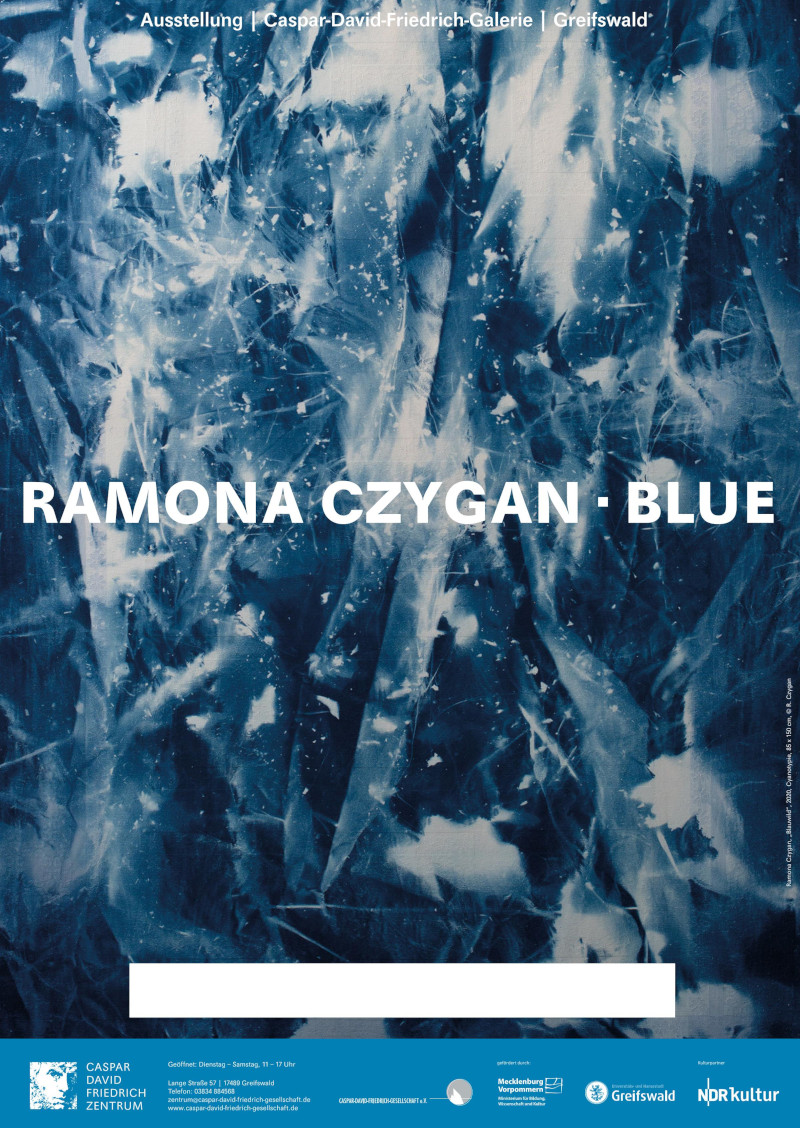 Photo: Ramona Czygan, "Blauwild", 85 x 150 cm ©Caspar-David-Friedrich-Gesellschaft e.V. 2020
Yet, Cyanotype has not been known for its artistic qualities in the first place, but for its use on the field of botanical research: in 1843/44, the British botanist Anna Atkins published her book "British Algae: Cyanotype Impressions". She edited and augmented this algae herbarium over the following ten years, until in total 389 labelled blue prints – Cyanotype photograms of the specimen – came into being. Due to that publication, Anna Atkins became known as one of the first female photographers in the 19th century.
The colour blue also plays an important and special role within European art and cultural history. In medieval times produced by grinding specimen of the semiprecious stone called Lapislazuli, the colour blue was used to illuminate manuscripts in monasteries. This valuable colour was used mostly in depictions of the coat of the Blessed Mother of God as Queen of Heaven (Lat. Regina Caeli or Coeli) within the Christian religion.
Also and particularly to connoisseurs of romanticism the colour blue is of no insignificant meaning: within his novel fragment "Heinrich von Ofterdingen", the German poet and writer Novalis (1772-1801) established the symbol of "the blue flower", which became epoch-making. At the beginning of the 20th century, described as seemingly sinister and melancholic, the colour blue characterized the so called "blue period" of Pablo Picasso (1881-1973). Whereas Yves Klein (1928-1962) created mid-century art works, so called "Monochromics". Their intense effects lived only through the sole use of a shade of ultramarine, patented by the artist as "International Klein Blue".
The colour blue seems to be casting a spell on artists again and again. Ramona Czygan herself describes blue as a colour, in which she "like[s] to take a walk in every single day."
We hope, on your next visit in the Caspar-David-Friedrich-Centre you too will be able to dive in deeply and delightfully into the cyano-blue world of Ramona Czygan's art works!
Due to the current and intensified situation we decided to open the exhibition digitally, choosing a video format.
Of course, we will keep you updated to when the Caspar-David-Friedrich-Centre is allowed to open its doors again for your visit! Until then, please stay healthy!
The exhibition "Blue" by Ramona Czygan will take place until 24th April 2021 within the Caspar-David-Friedrich-Gallery.
A list of works and charges will be provided to you gladly via e-mail on your demand.
Sincerely yours
Caroline Barth
CEO of Caspar-David-Friedrich-Centre
1See Dallmann, Silvia in: Signifikant Signatures No. 74. Ramona Czygan, Text "The Blue of Thoughts", Dresden 2019.