Current Exhibition
Ruth Campau
FIELDING
27th April - 7th July 2019
Vernissage:
Saturday, 27th April, 6 pm at the Caspar-David-Friedrich-Centre, Greifswald, Germany
Admittance: free
"FIELDING" is the title of a solo show by the Danish artist Ruth Campau.
"FIELDING" is also the name of the huge installation, which is installed in the main exhibition room. Ruth Campau has covered the total floor with 19 pieces of dark mylar lanes. Each mylar lane is painted with long, rhythmical and very precise brushstrokes. A brushstroke that has been the characteristic for Campaus artistic agenda for many years. She puts the plate (in this case a soft mylar) on the floor and takes long strokes with a broom.
The mylar lanes in this installation have different lengths, but all of them are painted with thick, impasto, black paint. The mylar is transparent and you can slightly see the brown floor underneath. The paintings and the floor melt together and remind you of a plough field.
The viewer is not allowed to walk on the floor instead it can only be viewed from a small platform by the door.
Ruth Campau says about the installation:
The CDF Centre is the house where Caspar David Friedrich was born, and my solo show "FIELDING" is a contribution to Caspar David Friedrich and his romantic landscapes. I will show two installations that focus on paintings installed as landscapes. A site-specific landscape where the viewer becomes a part of the motive.
CDF often painted a person standing in a huge magnificent landscape, turning his back to the viewer. In the installation "FIELDING" I do the same – just in a contemporary and concrete way.
I grew up on the isle of Mors in the northwest Denmark, and I can easily relate to the romantic landscape – I know it by heart and I can smell it. When a field is plough it is beautiful with the stringent lines. The dark soil and the birds screaming symbolizes a new fresh beginning. The psychic state of mind you get while viewing a landscape like this is also the drive to a more sensual and spiritual connection to the world and to life in general. I hope to bring this forth in my installation "FIELDING".
Additional to the big installation Ruth Campau also show a smaller installation and some paintings.
With best thanks to Galerie Knut Hardwich, Sellin on Rügen.
For more of Ruth Campau's work.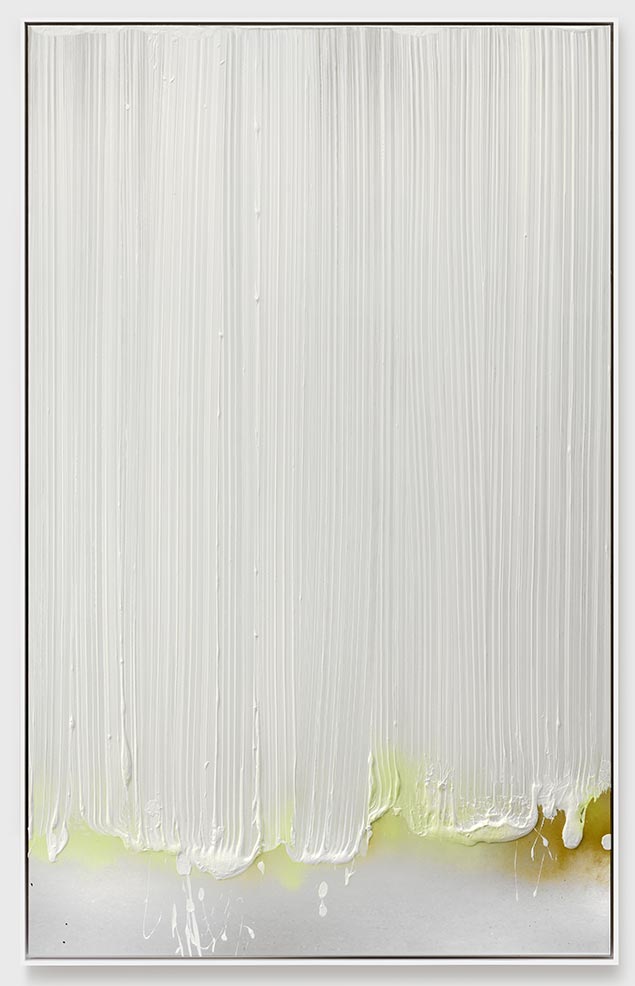 WHITE © Ruth Campau 2019
Curriculum:
1955 born on the Island of Mors, Denmark
2000 – 2005 Studied Art History at the Open University, Copenhagen, DK
since 2002 Member of the Danish Artist Society
since 2006 Member of Grønningen Artist Collective Association
2006 – 2009 Art consultant and member of the adivsory committee of UBST/ The Danish University and Property Agency
2005 – 2011 Member of the Danish Academy Council and Danish Artist's Society's Jury (Chairwoman 2008 - 2011)
since 2011 Member of The Danish Royal Academy of Fine Arts
since 2013 Member of the Academy Council
lives and works in Copenhagen
Exhibitions
Solo Exhibitions (Selection):
2015 Interstellar, Gether Contemporary, Copenhagen, DK
2015 Between The Past and The Coming, Overgaden, Institut for Contemporary Art, Copenhagen, DK
2014 Vertical, Marianne Friis Gallery, Copenhagen, DK
2011 Pearl, PS Projectspace, Amsterdam, NL
2011 Velvet Mirror and Diamonds, Asbeak AAC Showroom, Copenhagen, DK
2010 Mit Museum, KUNSTEN Museum of Modern Art, Aalborg, DK
2007 Neighboorhood & Grass, Brænderigården, Viborg, DK
2006 Curtain, Ostseebad Sellin on Rügen, D
2005 Galerie Hartwich Rügen, D
2004 SPACE BAR, Paintbox extensions, Copenhagen, DK
2001 Yellow, Red, Cigar, Overgaden, Copenhagen, DK
2000 Spiritual Kitchen, PAINTBOX, Copenhagen, DK
1996 Humid Zone, Overgaden, Copenhagen, DK
Group Exhibitions (Selection):
2015 Quartet, Esbjerg Art Museum, Esbjerg, DK
2015 Eccentric Abstraction, FeldbuschWiesner Galerie, Berlin, D
2014 Edition Norm Issue N°3/2014, Berlin, D
2013 Baltic Sea Record 2013, Stadtgalerie Kiel, D
2013 Sculpture by the Sea, Aarhus, DK
2013 Arkitektonisk Stuegang, Designmuseum Danmark, Copenhagen, DK
2012 Co Lab, The Barker Hanger, Los Angeles, USA
2012 Shaped by Time, Nationalmuseum, Copenhagen, DK
2008 ROUNDABOUT, Contemporary Exhibition Space, Berlin, D
2008 Grønningen, Bornholm Art Museum, DK
2007 Young Blood, PS Projectspace, Amsterdam, NL
2005 SPLASH, BOX 2.0, Copenhagen, DK
2004 Farbfilm 2004 – Abstraktion III, Kunstverein Schloss Plön & Schloss Plüschow, Niedenstein, D
2003 Vierzig mal, Kunstverein Rügen, Putbus, D
2003 Norther Malerei, Galerie Hartwich, Sellin on Rügen, D
2001 Efterårsudstillingen, Kunsthal Charlottenborg, Copenhagen, DK
2001 Norther Malerei, Galerie Hartwich, Sellin on Rügen, D
1999 PAINTBOX, Copenhagen, DK
Site specific projects in the public space (Selection):
2016- Handwoven stories from the colorfields make the blanket warm. Hvidovre-Kranken­haus, Kopenhagen, DK
2014 Concrete Poetry. Ortsspezifische Dekoration des Atriums des VUC, Vejle Campus, DK. Architekten: Cubo
2014 Nul Ét. Dekoration für UNI:C, Nationale Agentur für IT und Lernen, Dänisches Bil­dungsministerium, Kopenhagen, DK
2012 Every Colour You Are, (vol. II). Farbschema für das Foyer im Civilstyrelsen, Kopen­hagen, DK
2011 Puzzle. Ortsspezifische Dekoration der Rezeption von LETT, Kopenhagen, DK
2007 – 08 Contemplation. Ortsspezifische Dekoration der Kirche des Nationalkranken­hauses, Kopenhagen, DK, Architekt: Mathilde Petri, Gebäudebesitzer: Nationalkrankenhaus, Spende der Neuen Carlsberg Stiftung
Honorary stipends, prizes and awards (Selection):
2015 Ole Haslunds Kunstnerfond, honorary stipend
2015 Residency at Accademia di Danimarca, Rome, IT
2015 15. Juni Fonden
2013 Residency at ISCP International Studio and Curatorial Program, New York, USA
2013 Grosserer L.F. Foghts Fond
2012 Residency at Can Lis, Mallorca
2012 Mogens Zielers Fond, Honorary stipend
2008 The Danish Art Foundation, 3-year stipend