Exhibition
Walter Herzog
Graphics and Drawings
26 January – 22 April
Exhibition opening:
26 January 2019, 2 pm
Welcome: Hannelore Kohl, Chairwoman of the Caspar David Friedrich Society
Introduction: Prof Dagmar Lißke, Caspar David Friedrich Society
Admittance: free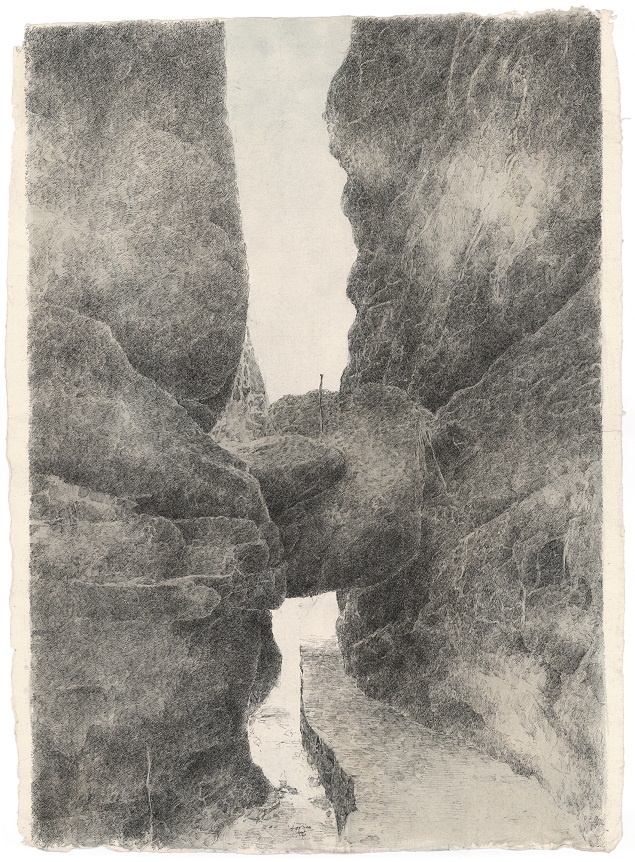 Walter Herzog, Uttenwalder Grund, 78 x 57 cm, 1996, ink drawing, washed
Born in Dresden, Walter Herzog shows selected drawings and graphics in a single exhibition at the Caspar David Friedrich Gallery.
Herzog grew up in a suburb of Dresden, after the city had been destroyed. The rural environment seems to have had a long lasting influence on him, as nature above all is central to his work. His affinity to the romantics of the 19th century is very obvious, a series of his etchings referring directly to pictures by Caspar David Friedrich, as to the choice of motifs and topics.
In Herzog's works, rocks, seascapes and river landscapes take turns with at times lush clumps of trees or with isolated trees, stones, roots or branches. Also architectural details are to be found, as there are bridges, stairs and ruins, mostly in secluded, abandoned and enchanted places and often overgrown with vegetation.
Mostly, his graphics and drawings show landscapes such as the isle of Rügen or Saxon Switzerland – places where also Caspar David Friedrich wandered and drew 200 years ago.
Walter Herzog is well-known for his drawings and etchings. His etched sheets are based on extremely dense and detailed drawings and skilfully leave room for the spectators' imagination. The graphics reveal what is behind the outer appearance and thus become metaphors of growth and decay.
Walter Herzog had his first drawing lessons at an early age, but in 1957, he decided to study architecture at the TU Dresden, and for many years, he practised as an architect. In 1971, he started doing his first etchings, and since 1980, he has been working exclusively as a freelance artist. Walter Herzog can look back on an extensive œuvre and a great number of exhibitions. He lives and works in Berlin.