Your Visit
We are open!
From Tuesday to Saturday, the Caspar David Friedrich Center is open for you from 11 am to 5 pm.
Your visit is no longer subject to 3G verification or masking requirements. Nevertheless, we recommend that you inform yourself about the Corona pandemic regulations in force on the date of your visit.
The museum shop is open from Tuesday to Saturday from 11 am to 5 pm.
You are welcome to use our Online-Shop to get an overview of our product range.
Greifswald, Lange Straße 57
Tel. +49-3834/884568
Opening Times
October to April:
Tuesday to Saturday 11.00 – 17.00
May to September:
Tuesday to Sunday 11.00 – 17.00
Closed from 24.12.2022 to 16.01.2023
Accessibility
The Caspar David Friedrich Centre has a step-free access only to the ground floor.
Exhibition
The Caspar David Friedrich Centre is the meeting place of all who wish to retrace the artist's footsteps in the town where he was born.
The Centre was opened in 2004 in the historic Soap-House and was enlarged in 2011 to cover the whole of the family's former living quarters and business premises. It recalls the great painter and the greatest son of Greifswald.
Tour of the Centre (PDF)
Exhibition Opening: "Nina K. Jurk - Landscapes"
On Saturday, 28 January 2023, from 11 a.m., we cordially invite you to the opening of the new exhibition "Nina K. Jurk - Landscapes" in the Caspar-David-Friedrich-Zentrum! The artist's new catalogue will also be published on the occasion of the exhibition and will be presented for the first time at the vernissage. The event will be accompanied musically by Georg Wieland Wagner (Dresden) on the marimba. Nina K. Jurk is also present. Admission to the vernissage is free and refreshments are also taken care of!
"Nina K. Jurk - Landscapes": Landscape experience on canvas
In a mostly abstract manner, Nina K. Jurk brings landscapes in oil on canvas, which ultimately reflect the essence of her experiences with nature. They can be described as an expression of pure painting and are clearly recognizable in their subject matter.
Nina K. Jurk studied painting at the Academy of Visual Arts in Leipzig and graduated in 1998 with a diploma. She obtained her master's degree in 2001 in the class of Prof. Arno Rink. She realizes her exhibition practice and various projects throughout Germany, for example in Berlin, Leipzig, Dresden, Frankfurt am Main, Lüneburg and now in Greifswald. Nina K. Jurk focuses on her work in the cotton spinning mill in Leipzig and was featured in the arte documentary "Caspar David Friedrich: Wanderer zwischen den Welten" by Nicola Graef in 2022.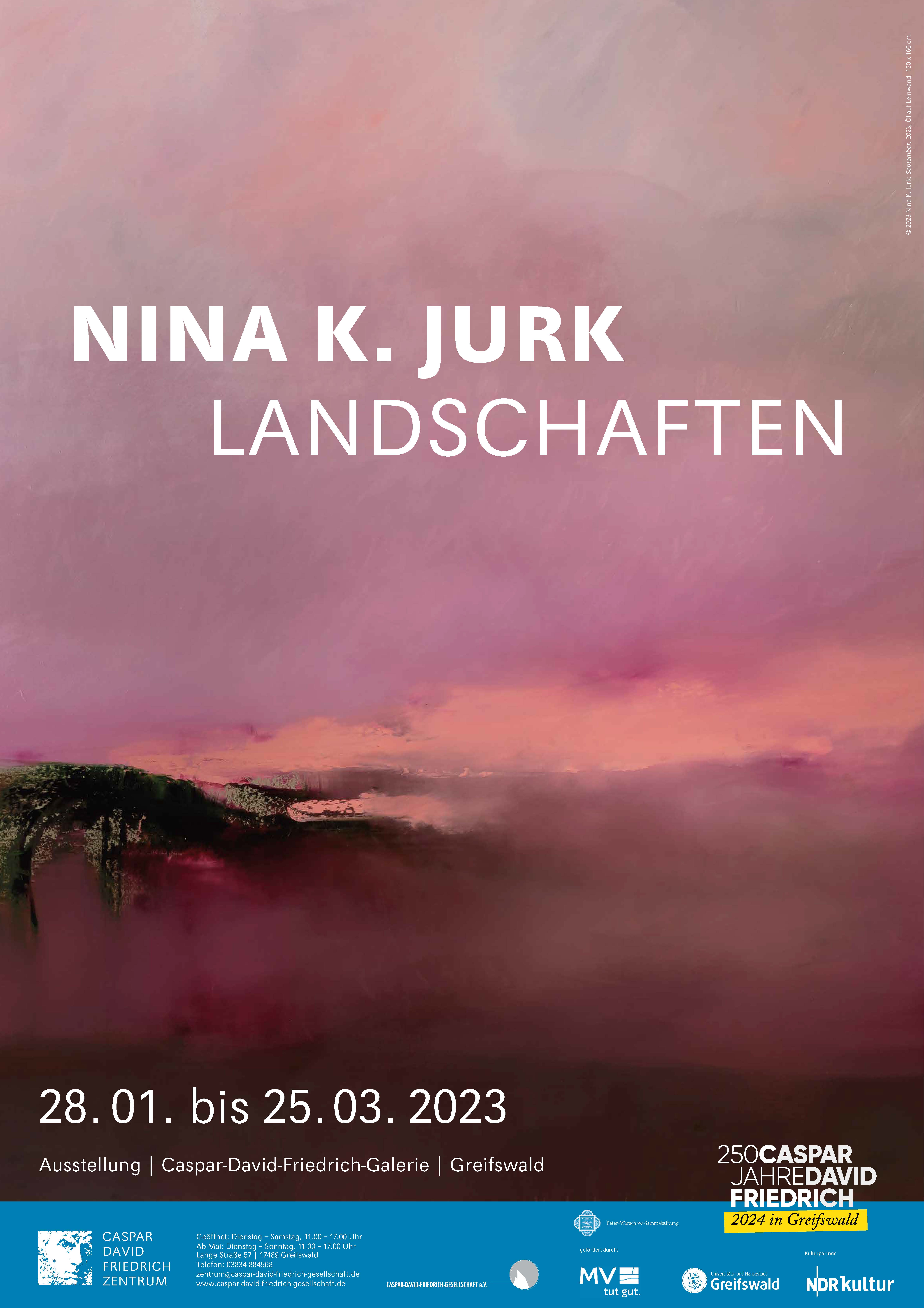 Welcome
Welcome to the Caspar David Friedrich Society in Greifswald, the famous early Romantic painter's hometown.
Founded in 1998, our Society is a non-profit-making organization that aims to promote a greater understanding and appreciation of the artist and to encourage further research into his life, his personality and his work. These aims are served in particular by the Caspar David Friedrich Centre, which our Society opened on the site of the house in which the painter was born.
We also seek to preserve the artist's memory through the Caspar David Friedrich Prize, by guided tours and excursions to places associated with the painter and, last but not least, by lectures and public readings.
Our Society extends a warm welcome to all who feel drawn to the great Romantic painter and to his art and who wish to express their commitment to it.
Best regards,
Hannelore Kohl
Chairwoman