Exhibition
HELMTRUD NYSTRÖM
Paintings and Graphics
24 March – 10 June
Exhibition opening:
24 March, 2 pm
in April, Oil on canvas, 90 x 100 cm, 2016, © H. Nyström 2018
Internationally renownd artist Helmtrud Nyström shows her paintings and graphics at the Caspar David Friedrich Gallery. Born in Hannover, the artist has been living in Sweden for 55 years and thus feels connected to both countries.
Her main focus is on the relationship of man and nature, which can range from closeness to estrangement. Her works show both Swedish and North German landscapes. She captures deep dark woods as well as lush moorlands and lake landscapes. Muted colours enhance the magic and mystic atmosphere of her paintings. Titles, such as "Pathfinder", "Two wanderers" and "Swimming girls" often hint at the figures in her works, mostly children, and their actions. In her graphics in particular, she also introduces motifs from Swedish sagas, fairy tales and ancient customs.
Amongst others, her teaching activities took Helmtrud Nyström to Reykjavik, Canberra/Australia and, in 1994/95, also to the University of Greifswald. Art collections worldwide include her works. She has received several awards for her colour etchings at international art biennials, including Poland, France, India and Germany. In recent years, Helmtrud Nyström has been focussing on monotype and painting.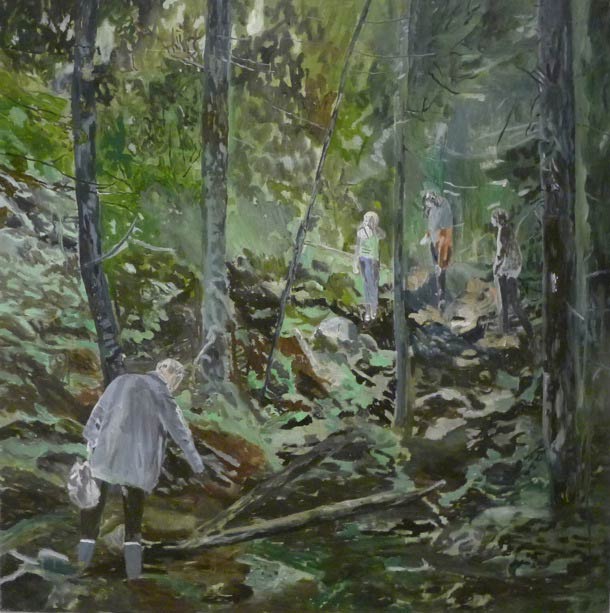 Pathfinder, Oil on canvas, 130 x 130 cm, 2014, © H. Nyström 2018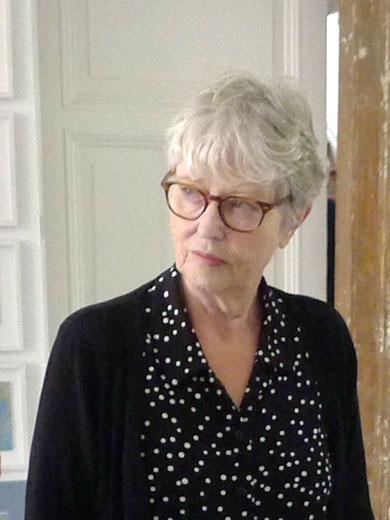 Helmtrud Nyström